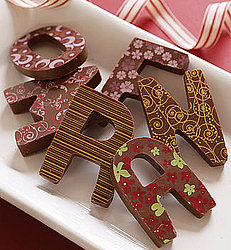 CHOKLET is a small independent business based in Newark-Upon-Trent, Nottinghamshire and run solely by myself, with occasional and much appreciated help from my husband.
I hand-make a gorgeous and unique range of quality chocolates. These are all carefully, passionately and time consumingly handcrafted by myself at home using the finest Belgian chocolate.
I, like many other chocolate professionals, prefer to use 'couverture' chocolate. Couverture is a fine-quality pure chocolate with a high percentage of cocoa butter giving my finished products a high gloss and delicious taste.
I love to make chocolates that make people go 'Wow!' - Chocolates that you wouldn't ordinarily find on the high street.
You'll find all sorts of gorgeous and unique goodies on this website that may take your fancy with a wide range of prices to suit any budget. Please have a good browse around, it's very easy to navigate.
Enjoy!