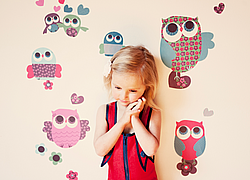 Chocovenyl is simple and irresistible like chocolate and vanilla. The creme de la creme of todays illustration on the most beautiful PVC free self-adhesive fabric.
Our wall stickers are matt with slight fabric texture. Just peel and stick and re-stick till your heart's content.
Nataly and Guy, the founders of Chocovenyl are a graphic designer and an engineer, a mom and a dad of three. Nataly is passionate about interior design, illustration and the new medium of residential wall graphics. Guy is passionate about Nataly and he makes things work.
They dreamed up Chocovenyl to:
Excite over this new medium, allowing endless playful possibilities; Infuse your daily space with wonderful colour and whimsical creations; Unframe art, working with the world community of artists who are creating a most exciting art for your home; and finally, to put a smile on your face.