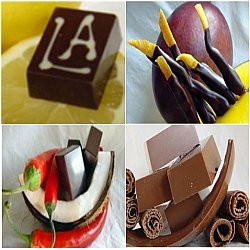 Chocolala was set up in early 2006 with ethical principles both on ingredients and minimal packaging.
Reviewed by the Guardian, Independant and Elle magazine.
We make fresh chocolates and sweet treats that are utterly delicious and completely different from anything you might buy from high street shops!
We make and pack all our chocolates by hand so each package has a quality that's unique and personal - we can even personalise by special request.
We also try to fit in the same ethical principles.. All of our thirteen varieties of fresh chocolates and fillings are made from ingredients which are firstly ethically sourced and/or organic where possible.
We have no added preservatives nor do we add flavour enhancers. All our chocolates are at their best eaten within four weeks of receipt. Please store them in a cool place.
We hope that you love our chocolates as much as we do!