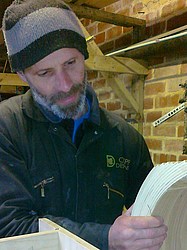 Chipp Designs is a small business, run by Mark and Christina Chipp, designing and making handmade curved furniture such as coffee tables, lamp stands, shelves & media units. They are also beginning to produce handmade ceramics.
All of our pieces are handmade to order (no mass production) and each piece is guaranteed individuality. The furniture is made from a mix of solid and real wood veneer and laminations are built up using a special technique which creates both strong and amazing shapes that show off the beauty of real wood. They are then finished using a natural blend of waxes and oils that further enhance its beauty and warmth. Simply gorgeous handmade furniture.
Each piece, be it shelves or a side table, coffee tables or media units, will significantly alter the character of your living space. Our furniture is an eye-catching focal point in any room and will attract attention wherever it is used
We are able to offer oak, walnut, olive ash and cherry for any of our products, in an environmentally friendly way, as veneer ensures that only a small proportion of the tree is used. All of our wood comes from FSC approved source and we source our glass locally too. Handmade, to order, with care.
If our designs fire your imagination or you simply want to alter one of our designs we also offer a bespoke service, nurturing a craftpersons way of life.