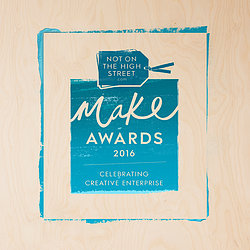 Back in 2005 I had an idea, just a small one. To make some pretty things that would fit into my newly made-over home. The sort of everyday item that I would have been thrilled to find in my Grandma's attic, but made using contemporary colours.
I knitted a pink fair isle tea cosy, it was beautiful but as these things do, took a long time to make. It still sits in on my teapot and is used everyday, tea stained but well loved. Many more products followed and the journey has been exciting, from making everything from my sofa, Chi-Chi Moi now has a small team dreaming up beautiful unusual items for you, plus a lovely group of ladies who knit and crochet all of our designs from their homes. Many based within the beautiful Somerset countryside.
We love what we do and each piece is really a small piece of handmade happiness,
Hope you enjoy using our products as much as we enjoy making them.
Psst ....and this year we won a Not on the High Street 'Make Award' which made us very happy.
Jan Ollis