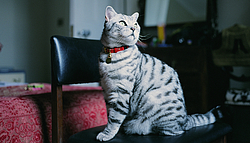 Cheshire & Wain specialise in distinctive cat collars made from the highest quality components and leather. Each collar is carefully made in London ensuring consistent quality and attention to detail. Our luxury range of collars are currently the only leather collars to incorporate a 'breakaway' safety feature, making them a safe as well as stylish option for pampered pets!
The often-complex natures of our cats along with their endearing and individual personalities makes them fascinating. We believe that a lot of careful and specialised thought needs to go into designing and making products that are beautiful and well made, but more importantly, safe and appropriate for our feline friends.
We now offer an I.D tag engraving service with two designs to choose from.
Thanks for stopping by! C&W