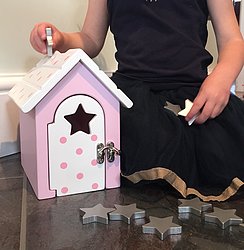 cheeky elephant is the home of stylish, unique children's / family products. As a stay at home Mum of 2 young children I have curated a collection of unique products which are both stylish and useful. All of our pieces are designed by parents and made from the finest quality materials.
Our brands include:
The Magic Door Store - Fairy and Elf Doors. These stylish, miniature doors create a magical entrance for your fairies and elves to visit your home. They are beautifully packaged and offer an imaginative and creative gift idea.
The Reward Box - an innovative take on the traditional reward chart. Children can be rewarded for good behaviour with gorgeous wooden star tokens. When they have collected enough these can be replaced by the 'Good Behaviour' Fairy' with rewards. Available in Pirate and Fairy designs The Reward Box is the perfect gift (can be personalised).
Yumbox - the leakproof, bento, lunchbox is suitable for children and adults
We also sell; gorgeous Bamboo Children's Dinnerware, My Squeeze re-usable food pouches for babies, Nutri Fill-It reusable smoothie pouches for children and adults, Lunch Punch Sandwich Cutters, Lunch Box Love Love Notes and the fabulous Master Plan Family Diary