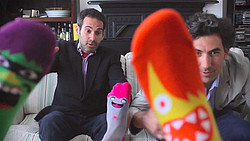 It all began one night a few years ago. We (Gil and Humberto) were joking around and started to ponder a very important question: 'What if our socks could talk?' It was one of those light bulb moments, but once the spark had been ignited we simply couldn't turn it off…
As two playful types we thought that grownupland gets a bit too serious at times. So it soon became our mission to inject more fun into people's lives through our cool ChattyFeet socks.
Originally our cheery designs were meant for adults but why should adults have all the fun? Kids love ChattyFeet too! Now you'll notice there's a mini-me pair of every character…just the ticket for a spot of sock puppetry or a toe-tapping adventure with the family.
They've been created by designers all over the globe, including talented friends and eager students! And there are plenty more in the pipeline…Kick off your shoes and see for yourself. Or share the fun by sending a pair as an unusual gift. They are a brilliant talking point. After all, what better way to make a sun-seeking romantic's day than Sandy, or someone in need of a superhero smile than Commander Awesome? Then it'll be giggles all round!