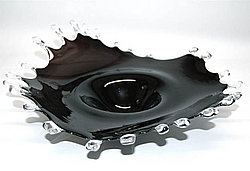 Charlotte is a London-based designer who graduated from the Royal College of Art in 2009.
Her work has been displayed with prestigious London based companies such as Contemporary Applied Arts, Liberty, Sotheby, WCD Shop, The Sir John Soane's Museum, and Wilson Stephen, alongside international companies for example 'Breakthrough Ideas in Global Glass' Ohio, USA and Ning Space, Beijing.
Charlotte was awarded second prize for Glass Designer 2009 with Zweisel in Germany and 'Best Ceramics or Glass 2010' with Hidden Art and her Spritz series has been picked for Christmas 2010; "Charlotte's Spritz series has a joyful dynamism that's absolutely irresistible..." Katrina Burroughs, Sunday Times.
Her skills include glass blowing, kiln forming, lampworking, sandblasting and stained glass. Her emphasis is on a high aesthetic standard and quality finish and therefore her pieces are ideal additions to both home and business environments.