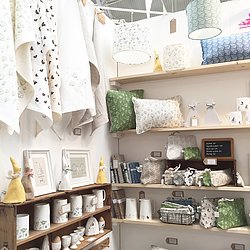 Charlotte Macey is a textile and homeware company based in a corner of the Cotswolds countryside. Here Charlotte and her small team hand make beautiful and practical items for the home; originating in embroidery and a degree in Textile Design, Charlotte quickly discovered her unique style of illustrative embroidery and has been hand making her range of beautiful homewares for the past six years.
Charlotte hand makes beautiful and practical items for you and your home, with either unique embroidered designs or made from her own range of fabric developed from her original embroideries.
Inspired by her surroundings, from rambling verges blooming with cow parsley in early summer, to hens pecking quietly in a neighbours' garden, the countryside surrounding Charlotte's rural studio plays a large part in the inspiration for her designs. Charlotte's designs range from cow parsley florals and woolly sheep, to nautical yachts and sailboats.