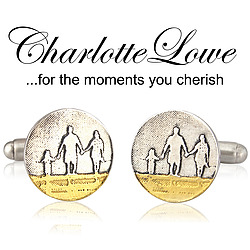 Handmade in the heart of the UK, Charlotte Lowe's photo etched jewellery collections celebrate shared memories and travel; capturing special moments with loved ones and escapes to exotic lands where some of the worlds best loved creatures can be seen. Each image is created from a photograph that is etched into sterling silver, forming a relief pattern of the image on the surface. Each item is handmade in sterling silver, with many oxidised to enhance the delicate details within the image. Many items are also inlaid with 22ct gold or striking black and gold finishes.
Charlotte Lowe Jewellery was established in 2009, when Charlotte set up her workshop in Birmingham's historic Jewellery Quarter. From here she works creating her collections of photo etched jewellery and works to commission creating personalised items for customers in silver and gold. Since launching her business Charlotte Lowe has exhibited at many exhibitions across the UK and now stocks a selected range of boutiques and galleries.
Charlotte Lowe Jewellery is committed to creating sentimental mementoes that you can cherish. Therefore a lot of love, time and attention goes into designing and handmaking each item for you. Charlotte Lowe Jewellery hopes that you get as much pleasure from wearing and caring for your new item of jewellery, as she has making it.