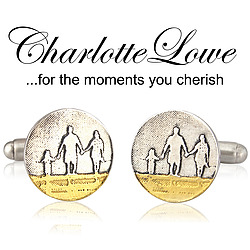 For many of us everyday life has a habit of taking over, often overshadowing the meaningful moments that make our life's unique. Charlotte Lowe's inspiring jewellery creations encourage you to remember the people, places and moments held dear. Each item a little reminder that you can keep close to your heart forever to evoke memories of precious moments with a special person or place.
Charlotte is inspired by capturing moments shared by family and friends on their journeys together. Taking images from some of the places that are closet to her own heart and using them to create images in which you might see yourself, your child or your significant other.
Each item is handmade in the heart of the UK from Charlotte's workshop in Birmingham's famous Jewellery Quarter. The designs are intricately etched into sterling silver with many details oxidised or highlighted 22ct gold inlay.
If you're looking to add a personal touch to your item you will be pleased to know Charlotte Lowe offers complementary gift wrapping and hand engraving on the majority of her range. Add an initial, word or message to the back of the piece where available. In addition, if you have a photograph that is particularly special to you. Charlotte can create a bespoke item for you containing an image of your silhouettes or person. Bespoke creations and limited additions are also available in rose gold plate, rose gold, 9ct gold and 18ct gold.
As a small UK business every single one of our customers means the world to us. We hope that in Charlotte's range of sentimental jewellery you will find something that your loved ones will admire and cherish forever.
Personalised Sea Shell Keepsake Charm Card customer Tue 05 Jan 2016 at 00:00
Really nicely made. A very truly magical gift.
Sterling Silver Elephant And Baby Elephant Cufflinks Sterling Silver Elephant And Baby Elephant Cufflinks customer Thu 16 Jul 2015 at 00:00
Beautiful cufflinks and excellent service and communication from the seller
Mother Elephant And Baby Elephant Necklace customer Wed 17 Dec 2014 at 00:00
I've combined this gift with initial charms of my mums children. Really personal and lovely gift!