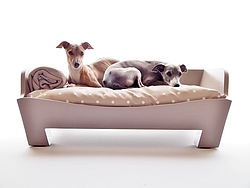 Charley Chau is an award-winning British business that makes beautiful bedding for dogs.
Inspired by their four Italian Greyhounds and a love of interior design sisters Christine and Jenny Chau focus on designing dog beds and blankets that are cosy, stylish and practical, and made to perform over time.
After endless frustrating searches for dog beds that they thought were good enough for their own dogs, the sisters took matters into their own hands and designed and made what was to become the Charley chau Snuggle Bed. That was in 2010 and Charley Chau now has happy canine customers in over twenty-five countries around the world!
A great British success story!