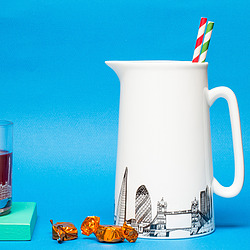 Cecily Vessey loves to draw - even though her pictures always turn out wonky. She creates London and city themed ceramics from egg cups to jugs as well as cards, prints, and more. Cecily works from her London studio and even that has wonky walls!
Central to her collection is the London Skyline featuring all the best London Buildings from The Shard to Battersea Power Station. Have a look at the decorative sticky tape for versions of New York, Paris as well as London, it will make you want to cover everything in the skyline. Cecily's laptop has been covered!
All ceramics are dishwasher safe, so easy to care for and practical, as well as beautiful!