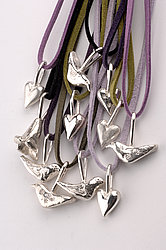 Jewellery designs inspired by flowers, animals, plant structures, textile motifs and architectural details. The jewellery is decorative in nature with surface texture and tiny details. Colour is added to silver pieces with semi-precious stones, gold and enamel.
Cathy Newell Price is a well established jewellery designer whose work is sold in galleries and small shops all over the United Kingdom.
All designs are created by hand in her rural studio overlooking fields in Shinfield, just south of Reading in Berkshire.
Jewellery is sent beautifully packaged in a gift box. We can gift wrap and add a message at no extra charge.