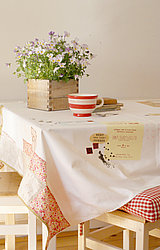 At Catherine Hammerton we are delighted to shout about Britishness and ethically sound production policies. We are proud to tell our customers that all wallpapers and home accessories are 100% designed and made in the UK.
Our prints are digitally printed in the UK using the latest drop-on-demand technology – this creates less waste during the manufacturing process, making it better for the environment. Our papers are also wrapped in bio-films, so the packaging composts in 40 days or less. Love our posters and we'll love the planet for you!
All of our textiles are printed in the UK and produced in conjunction with a nationally recognised sewing project, which supports people with mental health issues to develop vocational skills. They do a fantastic job and we love working with them.
Based at our central London studio, Cockpit Arts, all of our products are made with much love and care – we hope you think so too!