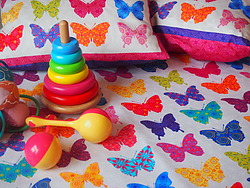 Catching Stars makes play teepees, kids' cushions and baby playmats. We are a design business specialising in bright and beautiful fabrics for kids.
All our play teepees, playmats and cushions are made with our colourful and stimulating bespoke fabrics. All are printed and sewn in the UK. Our philosophy is that beautiful colourful designs should appeal to both kids and their style-conscious parents. The designer, Roz Robinson, began designing her own fabrics because she couldn't find toys and soft furnishings for her kids that she actually wanted to look at herself. By designing her own fabrics, she was able to create play spaces for children that adults loved too.
Catching Stars products make the ideal gift for small children, and we hope they bring as much colour and pleasure to your lives as they do to ours.