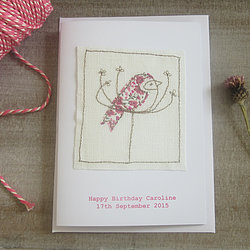 Welcome to Caroline Watts Embroidery.
Caroline grew up in small village in North Yorkshire and spent most of her free time with her grandmothers who were avid sewers and she suspects that their creativity must have rubbed off on her. Caroline has always wanted to work for herself but it took a while to choose something. It was six years ago that she decided she would try to learn embroidery and, after a lot of patience and practice Caroline Watts Embroidery was born.
"It is very important to be able to create something that everyone can afford which is well made. Our aim is to produce products which are a little bit different from the usual; maybe a bit quirky but overall something that is affordable and beautiful. Handmade shouldn't necessarily be regarded as a luxury but as an essential"
Everything is designed and made by hand in our garden studio and we mainly use machine embroidery to create each design, there are no computers are involved in the sewing which makes each piece we create unique. Caroline also offers a range of printed card designs.