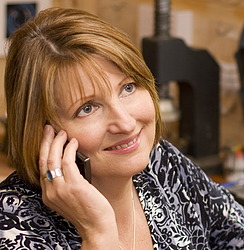 Hello and thank you for popping into my shop. I hope you like my work, all of which is made to order in my lovely studio in my back garden in Cornwall. My studio is like an Aladdin's cave of wonderful chunks of equipment and pieces of sterling silver or gold waiting to be turned into works of art.
I have honed my skills in such illustrious establishments as the Birmingham Jewellery School and John Cass in London.
My personalised jewellery is highly sought after by discerning customers who appreciate the simplicity of design and quality of workmanship. I never skimp on quality or service as my reputation is all important. Mass production has no appeal for me as I like my work to have come from my own bench or from that of my assistants, Danielle, Mica and Sue, so you have the satisfaction of knowing that your item was made by hand in Cornwall. Any enquiries are dealt with by me so you are not dealing with a faceless company.
I hope you love my work as much as I love making it.
ALL ITEMS ARE SENT BY ROYAL MAIL