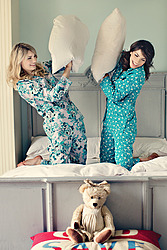 The Caro London range was launched in 2002 during a trip to Delhi's bustling wholesale market. Faced with an array of gorgeous ribbons, trims and amazing fabrics, Caro's founder Caroline Cutts found herself designing with textiles again after a five year break from fashion.
Caro London's collection contains night wear, cosmetic bags, accessories, shower caps and even soft cotton printed fabrics for the sewing enthusiast.In 2013, our first book "And Sew to Bed" was published by Cico books providing Caro enthusiasts plenty of ideas for making their own beautiful pieces from Caro London fabrics. From the beginning, Caroline and her team have focussed on sourcing and developing beautiful and interesting print designs, often inspired by vintage textiles picked up on Caro's travels. Our passion for easy to wear shapes, finishing, binding, stitching and detail, as well as our exclusive limited edition prints and lovely colour combinations on soft cotton fabrics, have ensured Caro London's success.
We only work with small scale production units in the Indian subcontinent, and over the years, as Caro London has grown, we've been able to provide more employment opportunities for local people in the area. We strive to create detailed, quality items without compromising the workers' conditions.