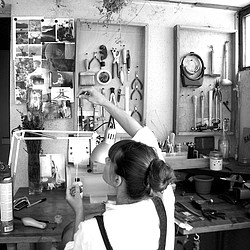 My name is Cari-Jane Hakes. I am a goldsmith who designs and fabricates all of the pieces in my notonthehighstreet.com shop, here in my studio at the foot of the Yorkshire Wolds in England.
I have been making sculptural, minimal and conceptual pieces from silver and gold since 2005. My designs often incorporate precious, semi-precious stones and sometimes surf tumbled pebbles too.
Many of the processes that I use to make the jewellery in my collections results in each and every piece being unique. I believe that these subtle differences in fine detail and finish creates personal and individual jewellery.
I craft each piece of jewellery with the care and attention of a Couturier. Indeed, when I design and make my jewellery my aim is always to create a piece that when worn will elevate an ordinary everyday outfit into something special and extraordinary.