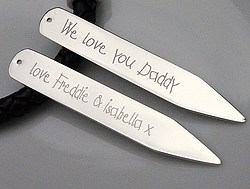 We love creating personalised jewellery for people to treasure and keep for many years to come. You can keep them for yourself or pass on to your children when thay have grown up or are leaving home, it is then their turn to treasure the memory of how young they once were.
We already make treasured charms but felt the time had come to offer something that has a personalised appeal that can be easily and timely commissioned particularly for that last minute gift that commemorates that special occasion, such as weddings, births, achievements and those milestone birthdays.
Many pieces of our jewellery are sterling silver and hallmarked.
Capture the moments ... Keep the memory!