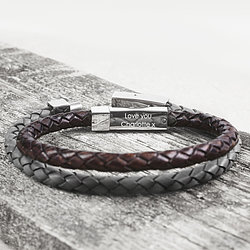 We love creating personalised jewellery for people to treasure a moment in time. This can be a new baby arrival, children's first writing and drawings right through to sentimental messages to your loved ones. We have a various range of products from leather bracelets, cufflinks and collar stiffeners for men to delicate necklaces and bracelets for the ladies with many other ideas in between. If you have an idea that we haven't thought of, please contact us and let us know.
We also have a few products for your pets including a keepsake credit card of their paw print.
We already make treasured pure silver charms of hand prints, foot prints, drawings and paw prints at www.notonthehighstreet.com/touchonsilver but felt the time had come to offer something that has a personalised appeal that can be easily and timely commissioned, particularly for that last minute gift that commemorates that special occasion, such as weddings, births, achievements and those milestone birthdays.
Capture the moments ... Keep the memory!