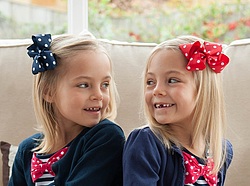 Candy Bows is an exciting internet shopping experience where young and older girls are able to find unique, beautiful, delicate and never seen before hair bows and hair accessories which are otherwise impossible to buy on the UK High Street.
We have classic and traditional style bows for everyday wear, multi patterned bows for parties and a fabulous array for Weddings and Christenings - Candy Bows has a range that'll please even the girliest of girls!
Here at Candy Bows we aim to keep all our products at 'pocket money' prices so that we can appeal to the little girls that wear them without costing Mummy too much! The bows and clips are great to give as gifts or be bought purely to indulge your own little girl. Each and every hair accessory is handmade by highly-skilled artists and only the highest quality materials are used.
We are a young business that has a thriving customer loyalty, thanks to our unique products and our friendly team. Candy Bows are passionate about the quality of our products and aim to offer the best customer service – we are happy to answer any questions or queries or to offer help and advice on colours, sizes of bows and information on the type of fasteners used. Like any great company we welcome feedback and any suggestions you may have.
My two little girls love to wear Candy Bows, as do all their friends, and their friends…… I think you will love our range as much me - happy shopping!