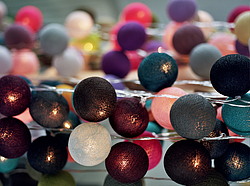 Cable & Cotton sells a hand made lighting and interiors product which is taking the UK by storm!
We offer customers a novelty pick and mix lighting solution, allowing you to choose your very own colour combination of string lights and create stunning displays. Each hand-crafted thread ball is hollow, the size of a satsuma and is a 'mini-lampshade'. Each mini lampshade sits over an individual low voltage light on a string of 35 or 50 lights.
Pick and mix your own lights from 43 colours or buy pre-selected favourites in two different lengths.
The 'Pick and Mix' allows customers to choose their own colours to suit any room - be creative!
Or choose one of our best selling 'Pre-Selected' colour combinations for those in a hurry.
Also new to our store are our big Lampshades, only available in a select few colours and in three different sizes. Made using the same technique as our mini lamps for string lights these lampshades look really unique and add an interesting feature to anyone's living room or bedroom!