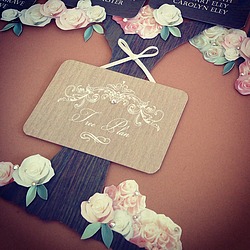 Hello and thank you for stopping by our shop. Just to let you know we are closed from the 1st December 2015 untll September 2016. We are replying to enquires and taking a limited amount of orders during this time. Please do get in touch - we would love to hear from you.
Here at Katie Sue Design Company we create stationery and prints as unique as your occasion.
Head designer Katie is on hand to offer design advice. Katie has been awarded by the Royal Society of Arts for her 'Outstanding Designs', sold designs around the world including New York, Paris and Japan and has a high profile celebrity following. Katie Sue has also joined forces with London based confectionery boutique 'Sweets in the City'. Their first exclusive range was in the world famous Topshop store on Oxford Street, London. Katie is just the girl to help you create 'the magic' on your special occasions. Regularly featured in Vogue, Tatler, Brides, Perfect Wedding, You and Your Wedding, Your London Wedding and Homes and Gardens Magazine.
Everything is made to order for your special occasion. Your input is very welcome and what we love more than anything is to create something just for you... it keeps us excited and we get to know you. Quite often new products are born because they are created for our customers. Who knows our next product could be named after you!
Beautifully designed invitations and prints
After being in love with typography since starting to study design. Katie has started to create a collection of personalised invitations and prints. Each print is designed just for you to illustrate and capture the most precious times in your life. Each is printed onto archival heavyweight matt paper (192g/m²), 255gsm or 350gsm linen card stock.
Get in touch, we love to hear from you.