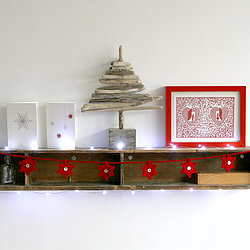 Hi, I'm Michelle, and I love buttons.
I'm drawn like a magpie to the pretty colours and shapes. They take me back to my childhood innocence, and remind me of my Grandma's button tin. I often notice the buttons on clothes, before looking at the actual garment, and my fiance likes to call me a button pigeon as I'm often cooing "ooh i like those buttons" !
Like many good ideas, buttons chose me. I saw some delicious teal chunky buttons in a bead shop while buying something else, and thought they'd make a nice, quirky and unusual bracelet. Lots of customers in the gift shop I worked in, loved it and asked me to make them one. I ended up buying all of the teal buttons in the bead shop!
I learnt to crochet and knit, by watching videos on youtube, and with my mum on hand to show me what i was doing wrong. I enjoy mixing wool with buttons, to give accessories that real vintage, handmade feel, and because I am also a colour-holic, I love to mix colour combinations, sometimes the more they clash, the better it looks!
I live in Northamptonshire with my fiance Kev, and husky Walter. Kev is my IT man, and the brain behind my website. Walter is my source of endless fun and a dutiful assistant on the daily post office run. I love having an excuse to walk in the countryside, that we are so lucky to have on our doorstep, but in the winter there's nowhere I'd rather be than under a blanket with my crochet hook!
I hope you love my pretties, I love making them. I also love to work on custom orders (wedding invitations, special birthday gifts or cards), so if you'd like something special making, please just ask!
love and buttons, michelle xxx