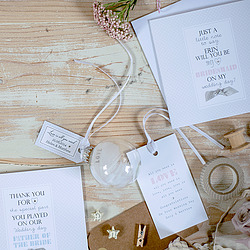 Hi, my name is Elise, and I create beautifully handcrafted, truly unique greetings cards and gifts, which are often described by my customers as keepsakes they treasure.
Button Box Cards Ltd was born just over four years ago, alongside working as a clothing designer in the fashion industry. Fueled by my passion for textiles, typography and fine design details, I went on to create stationary to help you say exactly what you want to say, just how you want to say it.
Originally created from my kitchen table, I am now based in my own studio set deep in the heart of Yorkshire. All of my cards, prints, gift tags and baubles are handmade with love, care and attention to detail. And I'm proud to say everything I produce is designed and handmade in the UK.
Quality is very important to me, from using the finest quality cardstock and fabrics, to the trims, crystals and delicate glass baubles I use.
Each piece I create can be personalized to your wishes and is 'Button Box Bespoke'. If you have any special requests please don't hesitate to get in touch, I'm always happy to help.
I hope you enjoy browsing my growing range of goodies.
All work Copyright © of Button Box Cards Ltd 2016