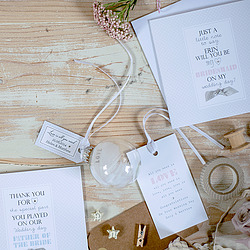 Hello and welcome to Button Box Cards Ltd, where everything is designed and handmade by me, Elise in my Yorkshire studio.
I design beautiful and unique cards and gifts, spending a lot of time looking for the emotive wording that creates exactly the right tone, helping you say the perfect thing for that moment. With a background in fashion & textiles, my creations are inspired by pattern, textiles and typography. Many of these things feature in my clean contempory designs.
Each and every Button Box Cards product is carefully handmade in my studio with my almost obsessive attention to detail. Most products are 'Button Box bespoke' and can be tailor made and personalised especially for you.
As well as producing a beautiful range of cards and other paper stationery, Button Box creates luxury personalised glass baubles, prints and a wide range of other keepsake gifts.
Thanks for stopping by, Please pop back soon!
All work Copyright © of Button Box Cards Ltd 2015