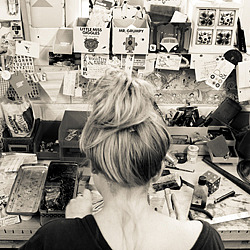 Welcome to Bug, a very special handmade jewellery brand created by Birmingham based designer-maker Ellie Ingram.
Here at Bug, everything is handmade. From our dainty La La Land collection inspired by tea, toast and all things delightful to our bohemian Chained collection, our eclectic mix of design means there's something for everyone – and each and every piece is crafted right here in Birmingham's legendary Jewellery Quarter.
A land of whimsy, imagination and fancy awaits your discovery at Bug. We're big believers in jewellery that takes you on a journey. Whether you're a big fan of baked beans, love music or simply want to wear something a little out of the ordinary, we think that your jewellery should be as unique as you are. That's why everything we do is from the heart, handmade and just a little bit on the quirky side.
Every piece is designed by Ellie and brought to life using traditional silversmithing techniques, so you know that this is truly unique handmade jewellery of the finest craftsmanship that pays intricate attention to detail. The intimate and uplifting designs in each Bug collection echo Ellie's life passions. Inspired by love and life, she shares her story through miniature silver delights!