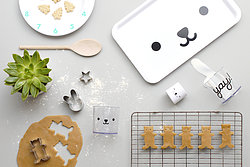 Buddy and Bear create playful design for the modern family.
A family business run by husband and wife team Jon and Sarah, we design sweetly stylish nursery pieces that can be treasured for years to come.
As parents, we became more aware that kids don't always need brash colours and loud noises to stimulate them. Sometimes it's the pussy cat's whiskers or an unusual texture that captures their gaze. Our style of bold and yet subtle simplicity reflects the mix of sensitivity and playful charm that the sweetness of childhood is all about.
We design all of our products from our home in West London and where possible, work with local suppliers to manufacture them.
Minimal, modern and super-stylish; the sweet simplicity of the Buddy and Bear range is enjoyed by kids, big and little.