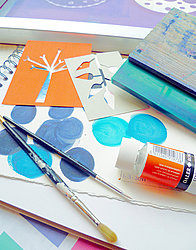 Potty about print!
Bubble met Tweet whilst obsessing over print and cake. Their shared love of pattern and colour kick started their print affair and with a pencil and squeegee to hand they got busy!
Inspired by natural forms, their doodles are given the Bubble & Tweet design twist and lovingly hand screen-printed onto select fabrics and specialist papers.
Having designed for high street brands and lectured in print they are now enjoying getting their hands dirty doing their own thing. With a nod and a wink to current trends their designs blend a quirkiness with a contemporary feel.
Their creations will make you bubble over with joy and leave you tweeting with pleasure!