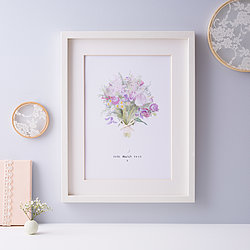 Welcome to the world of South London based Illustrator Bryony Fripp.
A fun, cute and quirky brand full of illustrations with elegant line work, from trees that look like broccoli to cheeky sausage dog butts!
She is inspired by everyday objects (and dogs) and adds a twist of her imagination, to make you or someone special in your life smile.
Bryony hand draws and designs all products herself, also a bit of a crafty cat she loves adding small embellishments to some of her prints.
Here is a lovely selection of illustrated and Personalised prints for many occassions to get you started with whilst more products will be arriving shortly.
Take a peek and enjoy.
x x x x