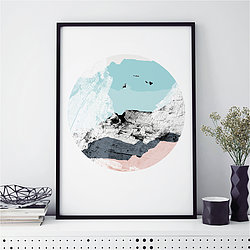 Hi my name is Bronagh Kennedy I am an artist and designer living and working in London creating contemporary gallery quality art prints inspired by my previous career as an urban designer and combining my love of architecture, cities, photography and of course travel. My signature art print collection 'Celebrating Cities' focuses on the much loved and well known city landmarks from London to New York and Paris as well as many UK cities and my aim is to add as many well loved landmarks as possible, I just need to find the time to travel! In additional to my architectural prints I have a also produced a range of contemporary Map art prints of all the cities you know and love. I spent much of my career as an urban designer drawing and creating maps and have always been fascinated by the patterns contained within maps and find them at their most elegant with all the extra deatil of street names and colour removed so the urban fabric shines through.
If you like what I do and you love cities and architecture then i hope these art prints will make the perfect addition to your home or office as well as being a great perfect gift for city, architecture and travel lovers or for someone who has a special connection with one of theses cities and has a special occasion or anniversary to celebrate.
All artwork is created from my own original photographs and drawings taken on my many walks around my home city of London as well as on my regular travels. I then utilise a range of digital and graphic techniques to meticulously break down the image to enhance the patterns and textures in a monochrmoe image whihc i then contrast with a range of contemporary colours to create my own unique graphic style.
The range comprises both limited and open edition art prints which are all professionally printed in the uk using the finest quality fine art papers and archival inks that ensures your print will last a lifetime. All limited edition editions are either 50 or 100 per coloir and are hand signed, numbered, titled and come with a signed Certificate of Authenticity.
Thank you for taking the time to read
Bronagh