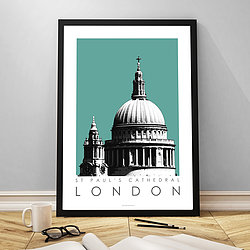 Unique Limited Edition Art prints inspired by and Celebrating Cities. The collection comprised some of the most recognisable and iconic landmarks and skyline from the UK and around the world. Perfect for the art and city lover each prints works prefectly on its own or creating a striking combination by teaming with one of more of the great range of complimentary colours in the collection.
Bronagh Kennedy is an artist and designer living and working in London. She creates fun and quirky limited edition art prints inspired by her career as an urban designer and combining her love of architecture, photography and cities. Her unique graphic images bring together her love of colour, patterns and structures found in the built and natural environment, often finding beauty in the everyday. Her finely detailed images set against bold blocks of colour create a contrast that invites the viewer to look at the familiar in a different way.
All artwork is created from original photographs taken by Bronagh on her many walks around the city she lives in and the cities she visits. She then utilises digital techniques to meticulously break down the image to enhance the patterns and textures then she recolour's, layers and blends the image before printing using the highest quality archival printing processes.
Each image is a limited edition of either 50,or 100 (per colour) is printed to order and comes numbered, titled and signed by the artist.