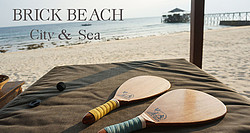 Brick Beach is a new lifestyle brand with a simple aim: helping people have more fun in cities and on beaches around the world.
The company was founded by Hamish Grierson and Rich Strang - childhood friends who grew up together in Cape Town. Hamish lives in London and is the brains behind the brand. Rich lives in Auckland, New Zealan, and is responsible for designing and making our products. The leadoff product for Brick Beach is a well known but little played game here in the UK of 'bat and ball'.
From Brazil to Tel Aviv, the game is played by millions yet in the parks and beaches here in Blighty we're virtually bat and ball free. Our bats come in three shapes (two adults and one child friendly size) and include a bespoke ball and a canvas bag to put it all in.
The bats aren't made from scarce hardwood like some of our competitors. Rather, we use marine-grade plywood that is in plentiful supply and provides superb durability. We also happen to think that the design (which highlights the grain in the wood) is rather beautiful.