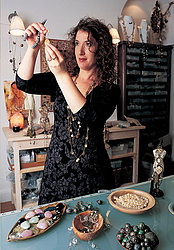 'Boutique by Jamie' is a lovingly-curated range of handmade and hand-selected jewellery and accessories from Jamie Jewellery. With most of the pieces being exclusive to notonthehighstreet.com, they can also be personalised to create unique and sentimental designer pieces at affordable prices.
The collection retains Jamie's feminine, contemporary, handmade and vintage style that has become synonymous with the brands' aesthetic - whilst offering the ability to add initials, birth/gemstones, freshwater pearls, coloured swarovski crystals and even to write your own messages on specially designed display cards or inserted into lockets. Making them perfect for gift giving or a little bit of self-indulgence!
'Boutique by Jamie' jewellery is created by hand in their London studio to the highest standard. Charms are 24 carat gold or sterling silver plated on pewter which gives the accessories their beautiful natural feel.
Jamie offers affordable luxury jewellery that can be personalised to suit you.