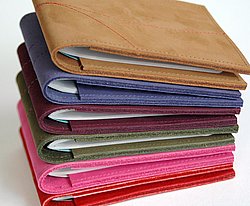 Bookery makes a unique range of award-winning contemporary stationery and accessories, a little off the beaten track. The range includes luxury notebooks and journals designed specially for the thoughtful scribbler. More recently, Bookery has introduced a range of beautiful leather sleeves for iPhone, iPad and iPad Mini, with the same attention to detail, tactility and colour.
All Bookery's products are a result of the intimate marriage of form, functionality and content, essential to good design. High quality materials are used in all products because it is the materials that bring a tactile product to life.
Bookery was launched in 2002 and is run by Heather Weston. Heather has an MA in Book Art from Camberwell College of Arts. Heather's work has been supported by both The Arts Council and Crafts Council. All products are handmade in London, by Bookery, and contain recycled paper and materials from renewable sources.