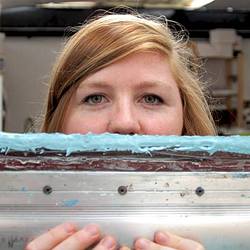 I am a designer maker from Bristol, specialising in screen-printing eco-friendly products.
Growing up in the Devon countryside developed my fondness for animals, which have been a recurring inspiration for my designs. My designs are hand drawn with a kind of scrappy, hair-ruffling affection for their subjects, without being overly sentimental.
Boodle was founded in 2010 by Bethan Buss. Having studied Textile Design at Nottingham Trent, she has been designing and screen printing ever since.
Boodle's clothing range is hand screen printed with soil association certified inks. All clothing is either organic or bamboo and fair wear, ensuring a fair wage to those making the garments. I design and print everything by hand from my studio in Bristol.
All art prints are hand screen printed on 100% recycled paper with soil association certified eco-friendly inks.
Boodle also has a range of greetings cards, Mugs and other hand made products.