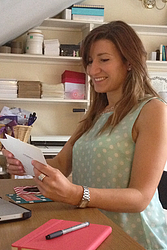 Hello! My name is Penny, and I'm a cheery stationery designer of luxury & stylish snail mail.
Through 'Bonnie Blackbird' I am on a paper-based mission to help save traditional cards and physical invitations from becoming a thing of the past.
Overuse of emails and social media has diluted the creativity and personalised touch often associated with receiving bespoke greeting cards, invitations or handwritten notes. In this digitally dominated world, it is important to remember the positive impact small gestures can have and never underestimate the power of pretty personalised post!
Simply choose your design from my shop, email me your wording and it can arrive to the comfort of your own home without you even having to leave your sofa. The smile you will cause when your loved ones open it up and read it is more than any round robin email could ever accomplish.
Bonnie Blackbird is a greeting card publisher and stationery design business supplying high quality paper goods and luxury snail mail. Children's party invitations, baby shower invitations, wedding stationery, notecards, baby announcements, prints and various other print based products.