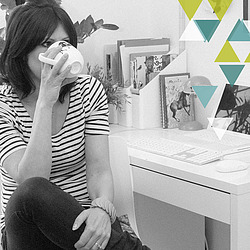 Hello/bonjour and welcome to my shop of cards and prints. Take your eyes on a clippity clop trip of pattern, colour and animals. Send secret messages of love or funny messages of joy. Keep writing people.
I design greeting cards for most occasions and some for no occasion whatsoever but they have a gorgeous pattern led design that you might want to send to someone just to say 'hi'. Within the range there are baby cards called 'welcome to the world little one' which I also produce as A4 prints. These can be personalised too for a little one's arrival making it even more of a special card or gift.
My designs have a bold, quirky, Scandinavian feel to them, very pattern led and graphic, featuring cool animals and stylish contemporary colour palettes. My background is graphic design. I just love designing cards and making patterns.
I sell cards and a range of A4 prints to cheer up most walls.