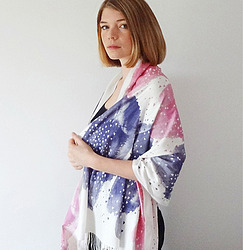 Bonbi Forest is home to the artwork and wares of Lee May Foster-Wilson who lives and works by the sea in deepest darkest rural Cornwall...
Lee May's drawn and painted artwork is based around a love of nature and features a lot of animals and landscapes with a focus on fun and narrative, and is the basis of the colourful Bonbi Forest range. The shapes and colours in her imagery are re-worked into screen print designs and patterns for apparel and accessories, or used as inspiration in choosing colours and tactile materials for jewellery.
Here you will find hand printed apparel, sweet hand printed accessories, colourful and nature inspired jewellery and a range of hand and digitally printed paper goods and art prints.
Come on in and explore the dreamy world of Bonbi Forest!!