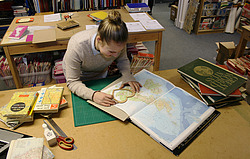 We mix vintage style with modern design to create bespoke gifts, home accessories and one-off pieces of art.
We were absolutely thrilled to win the 'Lifetime Contribution Award' in Notonthehighstreet's (NOTHS) Make Awards 2014. It was a delightful shock actually, as we entered for 'Partner of the Year' award. The Liftetime Achievement award is "Celebrating a long-time member of the notonthehighstreet.com community, this prestigious award recognises a true advocate for the business."
Our strength? Continuity: just as NOTHS has remained faithful to Holly and Sophie's original business ideal Bombus has also remained faithful to and evolved from one incredibly strong creative concept, developed originally in 2003 and which still forms the basis of the majority of our handmade products today; we invite you to choose your own map location of anywhere in the world to be featured in or on one of our products. It's such a simple concept, but such a strong one.
We have grown the product range considerably in the last year; we now illustrate some of the most popular map locations that are requested time and time again; we are stepping into the wedding market, the range of products that you can now choose to feature your chosen map location includes boxes, wooden ornaments, clocks, wooden letters... the list goes on and on.
And the future? We're looking into creating textiles featuring our vintage-inspired, illustrated maps, so do keep popping back! We make everything by hand in our studio in rural Kent.