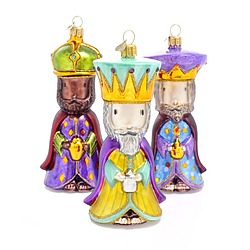 Bombki was born in 2001 and draws on a wealth of tradition. Head of design, Michael Peterson BSc, personally oversees the creation of each new bauble design from conception to final piece.
Taking each design through several stages from a painstaking first clay model to the perfectly finished glittering glass bauble. Peterson's baubles are designed in England and manufactured by skilled craftsmen in Poland & around Europe. Michael and his wife Zaneta have special connections with the factory that manufactures the baubles, adding to the special care taken with all of bombki's designs.
It hasn't taken long for Michael's designs to be noticed and he has now designed baubles for many clients .. from Sir Paul Smith, Liberty, Fortnum & Mason, No. 10 Downing Street all the way to Saint Paul 's Cathedral.
Always on the look out for new ideas and inspiration Michael's designs have become instant collectibles.
Even the packaging is desirable as each bauble, or bauble collection, comes in a beautiful wooden presentation box - making postage (and gift wrapping) an easy task. New designs are always being created so don't forget to visit soon to see even more beautiful baubles.