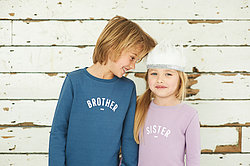 Well Hello...
Welcome to the wonderful world of Bob & Blossom... a charming collection of clothing for babies and small children - a perfect present for that special little someone.
On notonthehighstreet you will find a selection of our best sellers – From our ever popular Birthday/Age T Shirts, big fluffy tutus + sparkling party skirts, as well as our super soft baby seperates.
We source the finest cottons for our T Shirts and hand screen print T Shirt designs here in Sunny Brighton.
Bob & Blossom have been bringing big smiles and happy times since the year 2000...
Enjoy!