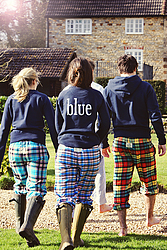 blueblancmange sells lifestyle products including lounge pants (pyjamas), lounge shorts, sweats, tees and cushion covers.
It's two founders had difficulty finding the perfect garment for themselves and their families, (with six young adults between them they wanted great quality, style and fit at keen prices). Both passionate retailers they were perfectly placed to launch the brand.
The result is the softest cotton lounge wear for men and women; pyjamas and shorts all in vibrant checks, tees and sweats. Available from XS - XL, to fit approximately a 10 year old upwards.
Perfect for sleeping, travelling, boarding school, sleepovers, university, post sport including skiing, riding, glamping, etc in fact for all those times when you want to be comfortable but stylish too.
Excellent quality, great value, the attention is in the smallest detail.
The brand continues to develop and cushion covers have just been introduced.
blueblancmange place much emphasis on great personal service. In short we want you to be as delighted as we would want to be.