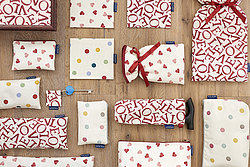 Blue Badge Company has a large range of uniquely styled helpful home comforts and travel accessories that make life brighter and easier. Using lovely fabrics and distinct designs, our useful products enhance independence and enrich lives. Our vibrant assortment of designs express our love for uplifting patterns and beautiful colours. Combining craftsmanship and quality for the finest finish be inspired by our collection of original and useful gift ideas.
Our selection for notonthehighstreet.com offers designs from William Morris, Roald Dalh & Emma Bridgewater. Our range of products include permit covers, wheat warmers, hot water bottles, lap trays, wash bags and more. All carefully selected and handmade.
We offer personaliation to create bespoke and original gifts, perfect for any gift-giving occasion.
We are passionate about quality and UK provenance. All our products are lovingly handmade in the UK and as pioneers of inclusive employment opportunities, over 40% of our team has domestic responsibilities or a disability.
You might also have seen us on Dragons' Den! Director, Ellen Green turned down offers in favour of UK manufacturing.