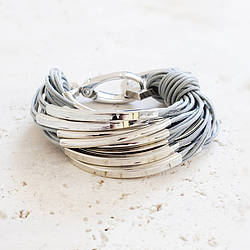 Bloom Boutique specialises in beautiful and contemporary personalised Jewellery, Watches, Fashion Accessories and Gifts, original designs brought to you from all over the globe making Bloom Boutique a fantastic place to shop.
The Bloom Boutique Jewellery collection is modern, stylish and most importantly very wearable. With contemporary styling the collection encompasses everything from earrings and necklaces, to bracelets, bangles, brooches and rings.
Bloom's Fashion Accessory and Gift collection is fresh and inspired by modern living, perfect as a gift for yourself or giving as a unique gift to that special someone.
Add us to your favorites and keep in touch with the latest fashion jewellery and gift styles available, which we hope you will love as much as we do!
Feel free to email any questions and queries using the "ask seller a question" button, please be aware we are going to be closed from midday the 23rd of December to the 28th of December, but rest assured we will get straight back to you as soon as we are back on the 29th to answer your querys.
Our return policy is limited to 28 days. if you do have a problem with your purchase please contact us as soon as possible.
Have a very Happy Christmas and a lovely New Year! Love Bloom x