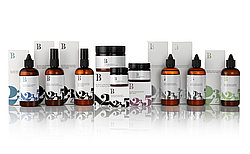 Bloom and Blossom is a new luxury skincare range for mothers, mothers-to-be and babies, using the minimum number of ingredients to achieve the maximum results.
The collection uses only the absolute essential number of high quality ingredients required to deliver exceptional results, and our active ingredient inclusion level is between 5-10%, making our products some of the most effective on the market. Every ingredient has earned its right to be there - simple ingredients that work.
The range has been created with the total understanding of what it feels like to be a new mother or a mother-to-be. Every product provides amazing skincare results, is presented in an intelligent and sophisticated way and feels like a luxurious treat.
Our gift sets are the perfect way to congratulate all expectant mothers, new mothers and new arrivals. Each gift set has a selection of our hero products as well as pair of luxurious bed socks for those tired and swollen feet or a baby soft wash cloth for your precious baby's skin. The gift sets are presented in our signature keepsake box, with a personalised gift card for your message.