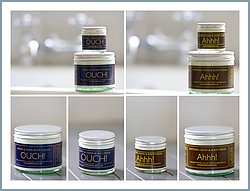 Blended Therapies offer natural aromatherapy products for you, your family, pets and home. Handmade from pure premium quality essential oils and hypoallergenic bases, Blended Therapies products have been designed to effectively treat and prevent common ailments naturally whilst promoting a positive attitude to well-being.
Our aim is to make wonderful products that do what they say on the pot.
All base products are 'lanolin' and 'paraben' free which is great news. We also use natural SLEs. All blends used contain nothing but the highest grade of therapeutic essential oils chosen for their healing properties. They are not diluted or adulterated in any way. Not tested on animals.