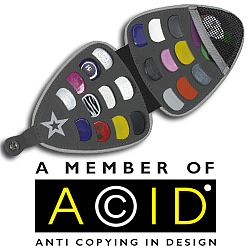 Pickpokit® – we create gear for guitarists and people who love music. Great stuff happens when passionate musicians meet equally passionate designers...
Origins in graphic design – we are very much used to being on the 'other side of the fence' and designing for others... now venturing into designing and producing our own products, starting off with the original and unique Pickpokit®.
The Pickpokit® is the 'genuine' original wallet for storing guitar picks in one safe place. Not only is it enormously practical – the "best bit" is the tactile design – you'll just want to pick it up! Over the last few years it's received a host of fab reviews. Now joined by the Leather Pickpokit® beautifully made from saddle leather. Both fit comfortably into your back pocket with ease, or hang from their own branded lanyards.
Our T-shirts are all high quality, and offer unique designs by Jo Vickery our in-house graphic designer, who has been working in the design industry for over 20 years. We're also very proud of our new Leather Pick-Pull Iphone cases... beautifully made and really cool... Please keep an eye on us, we have many more creations in the pipeline!