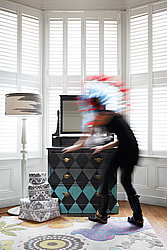 Blanche Dlys Designs is the brain child of Siobhan Harrison who studied textiles design at Chelsea College of Art & Design.
Siobhan has exhibited her works at New designers (2006) and at the highly influential Premiere Vision show in Paris. Siobhan's textiles designs have been sold to various world renowned fashion houses such as Diane Von Furstenburg and Rebecca Taylor in New York, and Liz Clayborn in Paris.
Her work is a reflection of her dynamic and expressive personality, this combined with touches of humour and irony create unique pieces inspired by all that surrounds her. Siobhan brings life back to vintage and discarded furniture by injecting colour, imagination and quirkiness to her found objects.
Where possible she minimises the impact on the environment by recycling and utilising damaged, unwanted or discarded pieces, and draws on her collection of vintage imagery including Playboy, burlesque, comics and other ephemera to create her one off designs.
This aim to give new life and vitality to yesterday's gems is not about reproduction, the pieces and materials where stated are vintage with imperfections, patina and evidence of the passing of time being part of their inherent charm.
Every piece is hand finished and bespoke in a nature that means no two designs are ever the same. These are truly unique pieces and are to be treasured as modern day heirlooms. Siobhan accepts both private and industrial commissions.
Has had items featured in Livingetc magazine Oct 2011