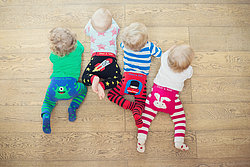 Inspired by my own beautiful daughter, who aged three months always had the bottom of her leggings on show, no matter how designer and expensive the dresses she wore, I realised that there wasn't a product on the market for funky leggings – that deserved to be on show!
During my maternity leave, after extensive research, and a thorough evaluation of the children's market, I designed and developed a range of leggings, each with their own unique and trendy design. A major component of the development was to ensure that the quality of the fabric was durable, functional, would wash well and most importantly, that was soft and kind to my daughter's skin.
After three prototypes, I finally was happy with the end result, which is made using top quality yarn, and launched my product to high end independent children's clothes stores and gift shops. The three initial designs sold out immediately - evidence that there are plenty of mothers out there in the same predicament as I was!
I'm sure you'll enjoy my range as much as I do, and will no longer have to worry about constantly pulling your little girls dress down to cover her bland and boring behind and be proud to show off her beautifully dressed bottom!