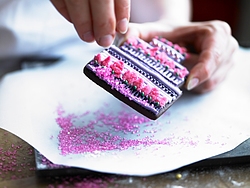 If you fancy learning a new skill in a stunning setting then The Biscuiteers School of Icing is just the ticket!
Come and work closely with our Biscuiteers team of expert icers in a small and intimate class of no more than ten people. The Biscuiteers icers will be on hand to teach you techniques, tips and tricks to get creative with your biscuits. You'll leave with a beautiful tin of biscuits that you've iced yourself and plenty of Biscuiteers Icing know how.
Classes run in our Notting Hill or Northcote Road boutiques, and Icing Lates in our Northcote Road Boutique. Drinks are provided, along with a 100% cotton apron for you to take home.